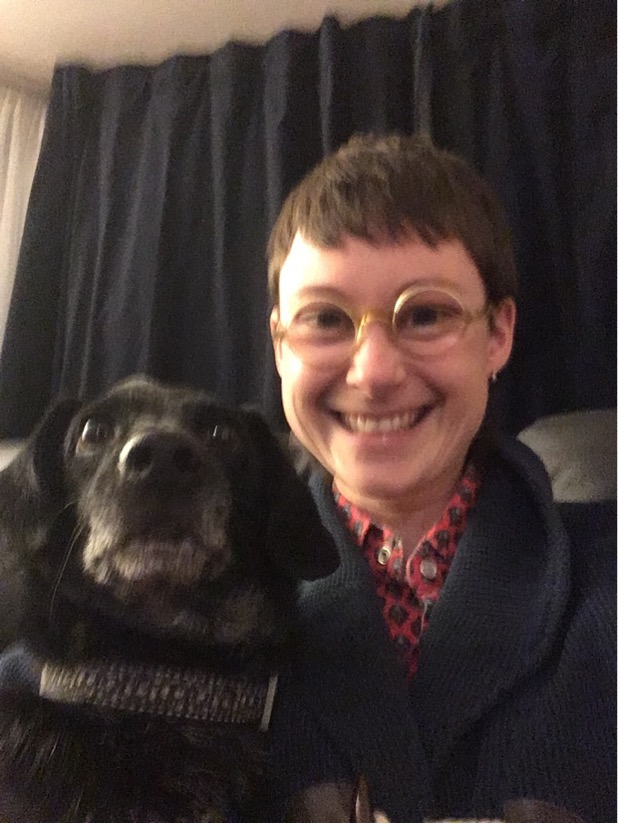 A small startled black dog and wide-smiled Raphaelle look forward. It is hard to take a picture with a pet, and the blurriness of the picture testifies of this comic moment. Raphaelle is a non-binary white person in their early 30's with short brown hair and round eyeglasses that sit slightly slanted on their nose. They wear a dark blue sweater and the collar of red shirt peaks from underneath. In the background a black curtain is drawn. This picture was taken where they were born, on unceded Algonquin Anishinaabe territory. They currently live, work, study and birdwatch on unceded Kanien'kehà:ka territory in Tiohtiá:ke (Montreal).
Diego is an Indigenous Mexican and Cuban brown-skinned man, wearing a beige camera vest, holding a camera and wearing a mask, sunglasses and a blue beanie while photographing a street blockade protesting tax reform in Cali, Colombia. He is a photographer, journalist, filmmaker, and former professional baseball player. He is currently in Tiohtià:ke/Montréal where he finds pleasure in running in rain, shine or snow. His favourite 3 colours are red, blue and black.
Caitlin sits dramatically on a sage green chair with her legs crossed over on brown luggage, trying her best to impress Tyra Banks with an intimidating smile. She is wearing a black cloche, a multicoloured tweed shift dress and long black socks, doing her best impression of a 60s beatnik doing daytime flapper cosplay. She has tanned skin, brown eyes and a straight(ish) bob. She is posing against a white wall with a floor length mirror, dead hanging ivy and street art cluttered in the background. Caitlin is a master's student in the Department of Communications at Concordia University. She is studying listening habits as it pertains to cycling. She identifies herself as a settler of Chinese descent who was born on Musqueam Territory (Vancouver) and is currently living on Kanien'kehà:ka territory in Tiohtiá:ke (Montreal).
A colour photograph of Piper Curtis, a sound tech and masters student with white skin and a wavy blonde mullet. They are standing on the sidewalk with a summery street behind them, smiling with a phone held to one ear and a bright pink Hello Kitty skateboard in the other hand. The brandname "Girl," originally featured on the board, is photoshopped out in an assertion of Piper's nonbinary identity. They are wearing pink tinted shades, pink shorts, and a baggy black t-shirt from one of their favourite wrestlers, Hikaru Shida.
I am a settler, born and raised in Turkey and immigrated to Canada some time ago. I live on the unceded lands of the Kanien'kehá:ka Nation as an uninvited guest. The Kanien'kehá:ka Nation are the custodians of the lands and waters which give us life and sustain the livelihood of so many beings. I love growing vegetables and sharing the joy with others. In the photo, I am covering my face with a red tomato from my garden which is, believe it or not, as big as my head! My short curly black hair emerges behind the tomato, giving it personhood. I am olive-skinned but, in this image, I am sunburned due to many hours spent in the garden.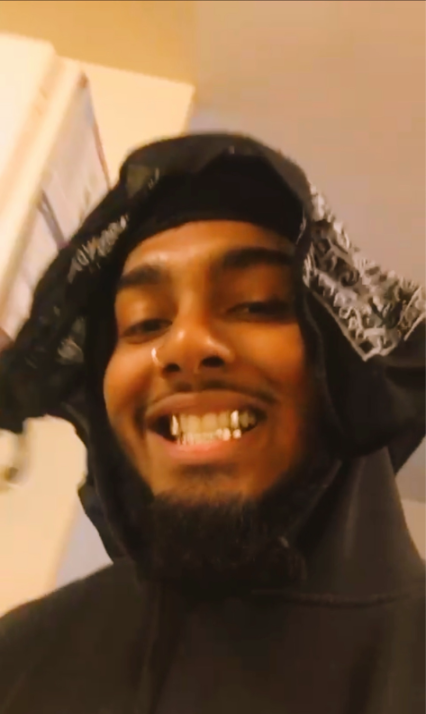 Here is Nicholas Goberdhan, a brown-skinned Indo-Caribbean male, PhD Student and creative. He is seen wearing a plain black bandana wrapped around his head, a black hooded sweatshirt with the hood up, and a paisley-print black and white bandana lying over the top. Notably, Nicholas has a silver-hooped nose ring on the left nostril, and a large smile accompanied with silver teeth on his upper canines and the bottom row of his teeth. In the background, there is a calendar and cupboard as Nicholas is walking towards the kitchen, another factor of the large smile.
This is a polaroid taken of me, Prakash Krishnan taken at a profile view of the left side of my face. I am 29 in this photo with brown skin and long black hair cascading over my right shoulder. I'm grinning widely, flashing a set of white teeth, breaking up the monotonous black of my large beard and moustache. My eyes are nearly closed which happens when I smile and I'm wearing large glasses with a black metal frame and a blue, hexagonal-patterned shirt. I'm looking at my friend who is just out of the frame with only the orange sleeve her arm visible in the left corner. I am a settler-of-colour, the first child of Tamil immigrants who arrived from Malaysia. I was born and raised within Dish With One Spoon Territory (Treaty 13), the traditional homelands of the Anishinaabe, Misissaugas, and Haudenosaunee First Nations. I now live and work on the unceded territories of the Kanienkaha:ka in Tio,tia:ke (Mooniyang in Anishinaabemowin).
Simone Lucas (she/they) is an interdisciplinary video artist, educator, scholar, and community activist of Jewish Ashkenazi descent based in Tio'tia:ke (aka Montreal), Canada. In this black and white photo , Simone leans against a brick wall. On her right ear dangles a hexagonal silver earing. Wavy dark brown hair sweeps across their left side, onto the shoulder and black cotton pullover. She looks directly at the camera, squinting her eyes because of the sun, which shines in from the right side.
Salima is an invisibly Disabled person currently located on unceded Indigenous lands in Tiohtià:ke/Montréal. She is a brown-skinned woman with thick curly hair sitting on a pile of thin mattresses and clutching a pillow in her lap in a sound studio that smells like bergamot, eucalyptus and cedar in Budapest, Hungary. The photograph was taken during an artist residency program at the Spatial Sound Institute where she developed a piece about collective rest using multiple senses called The Cost of Entry is a Heartbeat.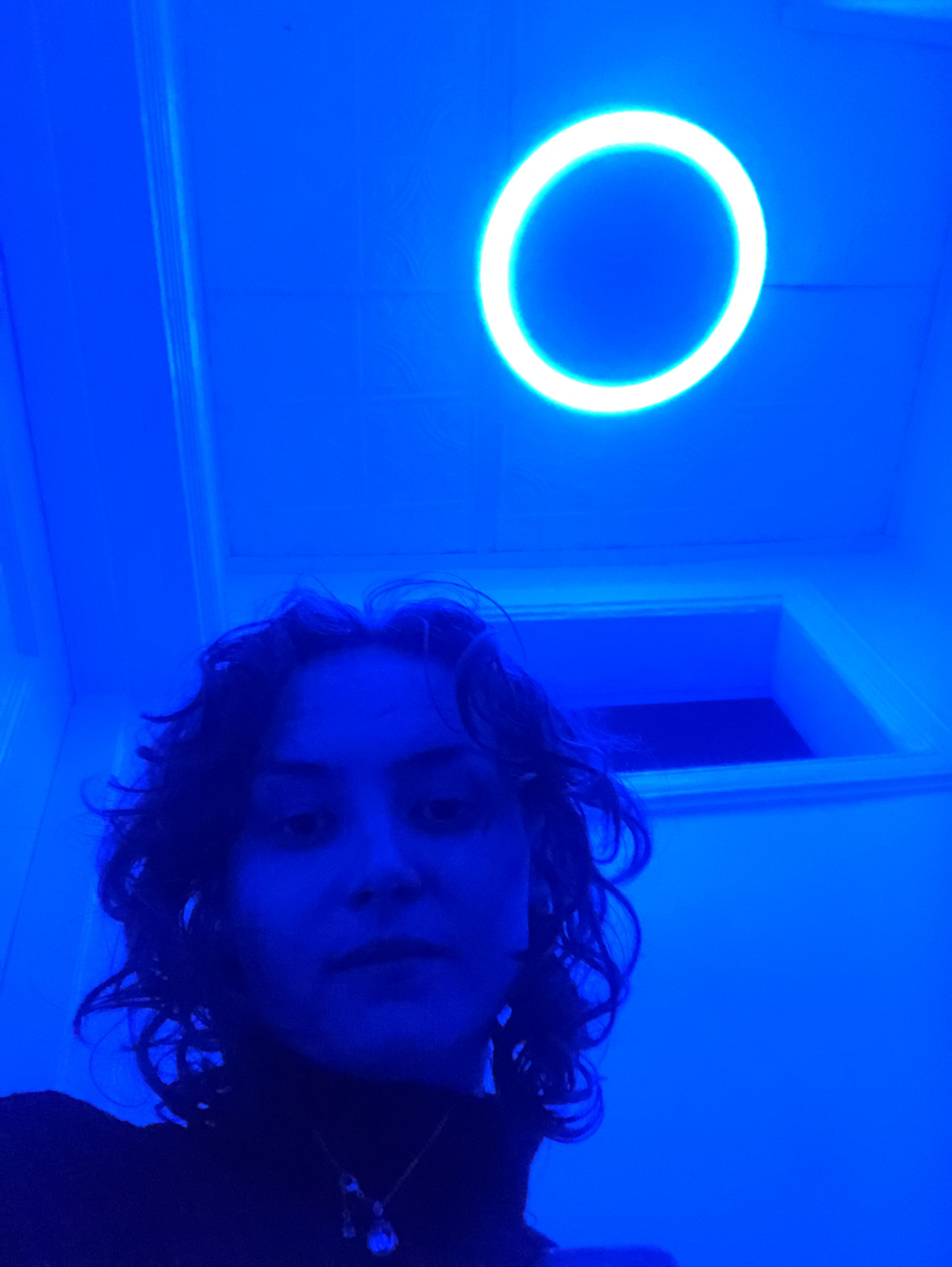 A halo-esque light on the ceiling engulfs Jessie in blue as she looks down at her phone to take a selfie. She is a white settler currently living on Kanien'kehà:ka territory in Tiohtiá:ke (Montreal). In the image, her red curly falls around her staple black turtleneck.
This photo of me, a 27-year-old white woman with wavy brown hair tied up in a bun, is taken from an upward angle with my left hand while my right hand carries two recently purchased, small plants – one mint and one rosemary -- which are visible on the bottom left side of the image. To me this selfie feels like spring, which as a season only becomes official once outdoor market shelves are blooming with racks of seedlings. The meditative practice of gardening, particularly when seedlings are purchased from massively-produced supply chains, is also one imbricated in systems of capitalist and colonial domination. As a child of generations of both settler and Métis ancestors, I strive to remain grateful, aware and diligent of my occupation on the stolen land of the places I have lived. Over time, these territories include that of the: Nuu-Chah-Nulth, Lkwungen, Cowichan, Anishnabeg, Haudenosaunee, and Kanien'kehá:ka nations.
Return to Gallery